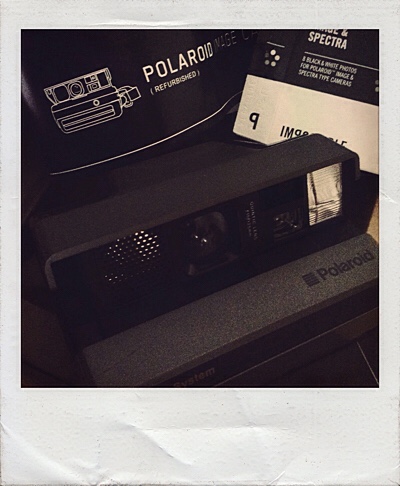 La polaroidophilie est une affection extrêmement grave. Son caractère addictif est, il faut le souligner, implacable.
Point de section PA (les Polaroidophiles Anonymes) à l'horizon, point de salut (dans ma campagne, je suis déjà victime de quolibets avec Mr B, mon vélo pliant. Alors avec un appareil photo qui ne poste pas directement sur Instagram, je suis mort) !
C'est ainsi que, Black Friday aidant, d'un presque simple clic, je me suis retrouvé possesseur d'un Polaroid Image Spectra. Halte au format carré ! Mais que dire du rectangle … sinon que les 4 côtés ne sont pas égaux ? Pour le look, fabriqué après 1980, la ligne se modernise (sur Vulcain, dans les mains de Monsieur Spock il aurait été parfait) … on aime … ou pas (rien ne peut détrôner le SX70 métal/skin façon cuir brun naturel).
Côté spécifications (source The Land List) …
Lens: 125mm f/10 3-element « Quintic »

Shutter: electronic; range 2.8 sec – 1/200(?) sec.

Exposure: programmed automatic

Automatic focus; uses Polaroid Sonar AF system.

Infinity focus lock control.

Focus distance indicator in viewfinder. (feet or meters)

Built-in automatic electronic flash.

Flash fires automatically with every picture; can be overridden.

Built-in self timer.

Socket for electronic remote control.

Brownish-grey-gold body with blue-grey vinyl covering; body folds to cover lens/shutter/flash assembly when not in use.

Various cosmetic changes made to this model in 1996 or so.
Et c'est aussi à Impossible Project que l'on doit la production actuelle de films noir et blanc et couleur (sensiblité 600 ISO) …
Mon caractère non-aventurier m'a fait pencher sur les propositions honnêtes (j'ose l'espérer) de Impossible Project … un Spectra Image « refurbished » (ah, que j'aimerais être moi-même un chouia refurbished) aux conditions extrêmement souriantes du Black Friday. Du sûr … oui, je vous l'ai dit, l'aventure et ses déconvenues me tentent peu et, avec 25% de réduction, soyons fou.
Et pourquoi pas un Spectra/Image 2 ou un Pro / ProCam ? Je me trompe peut-être mais les Spectra/Image 2 ne possèdent pas certains petits réglages à l'arrière et le Pro serait plus vorace en énergie (affichage digital … et oui, déjà …)
Donc un peu moins de 3 jours plus tard un sympathique livreur de GLS sonne à ma porte, me tend un paquet, me demande une signature, me salue et s'en va … oui, c'est ça aussi l'e-commerce. Une bien belle boite, un déballage un tant soit peu nerveux (refurbished, d'accord, mais à quel point ?) …
Un emballage sobre, et un Spectra en assez bon état (pas vraiment neuf mais presque … il a quand même pas loin de 30 ans d'âge).
Même si l'utilisation de ce type d'appareil ne relève pas de la haute technologie en terme d'utilisation j'avais pris soin de lire le manuel (polaroid-spectra-image-elite-manuel) Ça peut toujours servir … Et vite fait, je lui donne de quoi se régaler … noir et blanc ou couleur, couleur ou noir et blanc ? Il y a de ces questions qui peuvent rester longtemps sans réponse. Pouf, pouf, pouf … c'est toi qui t'y colle … le noir et blanc !
Mauvaise pioche … le « noir et blanc » Impossible exige d'être protégé de la lumière pendant un « certain » temps (quelques minutes) et, avec lek froid qui règne actuellement (2-3°C), comment procéder à l'extérieur ? Pas moyen de déplacer rapidement la photo depuis la frog tongue installée sur le Spectra jusqu'à une poche bien chaude sans passer par une exposition néfaste à la lumière … Avec comme résultat un développement à froid (température d'utilisation conseillée entre 13°C et 28°C, développement 10 min à 21°C) et un aspect surexposé (photo blanchâtre avec ombres).
Et comme je vous dit/montre tout … voici la première photo, un SX70 Alpha …
et les photos 2 et 3 prises à Bruxelles au Wiels (ancienne brasserie transformée en centre d'art contemporain). D'abord en extérieur (aspect surex alors que le temps était gris , très gris, trop gris mais froid) …
… et en intérieur (une cuve de fermentation en cuivre). Oui, c'est mieux (et, au passage, la tenue du Spectra pour faire des photos « paysage » ou « portrait » est plus qu'aisée) …
Et pour le test couleur … patience.
En hiver les polaroidophiles devraient pouvoir hiberner en attendant des jours meilleurs …
§ One Response to Polaroid Image Spectra … premières impressions