Dans un passé, lointain pour beaucoup, moins pour d'autres (pour qui le futur relève plus du court terme que du long terme), un groupe assez hors de mon commun qualifiable de pop neilyoungesque, avait accroché mes oreilles par une musique assez lancinante, planante mais non dénuée de trous d'air … Talking Heads. J'avoue que Tina Weymouth à la basse … n'était pas pour me déplaire. Mais ça c'est mon problème.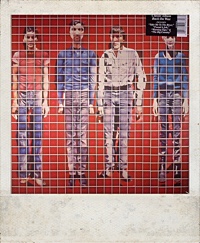 Le disque More Songs About Buildings and Food sorti en 1978 m'avait ramené vite fait à la rivière (Down by the river – de Neil Young, excusez-moi si je me répète – était, est et restera un des summa – un summum, des summa, non ? – musical de mon existence) avec le morceau Take me to the river …
Et je suppose que vous vous demandez « et alors ? » … Patience, j'y arrive.
La pochette du sus-dit disque (allitération inélégante … tant pis) n'avait guère retenu mon attention et pourtant … une photomosaïque composée de 23×23 soit 529 (si, si, le compte est bon) polaroids, œuvre de Jimmy de Sana.
Il aura donc fallu pas loin de 40 ans pour que l'illumination se fasse et que la pièce tombe. Vous parlez d'un instantané … Evidemment, au prix que coûtent les polas d'Impossible Project au jour d'aujourd'hui (de demain aussi, je suppose … si la poule pond des œufs d'or on ne va pas en faire une poule au pot) il faudrait lancer un projet kisskissbankbank (Vous savez les trucs de participation collective, l'économie 3.0 du futur … proche) pour rééditer l'exploit de Jimmy de Sana.
Avant la video (un concert de Talking Heads … enjoy … Take me to the river débute vers 1h09) deux polas divers et (a)variés 😉 sans grand rapport avec le sujet du billet mais juste pour me faire musicalement plaisir …
… un échantillon de ma collection de cylindres (cherche phonographe désespérément) …
{Polaroid SLR680 / Film TIP Color 600}
… et le « blues du 13e » par Ojidjo …
{Polaroid SLR680 / Film TIP BW600 2.0}